MEGAMACE: Behind the Scenes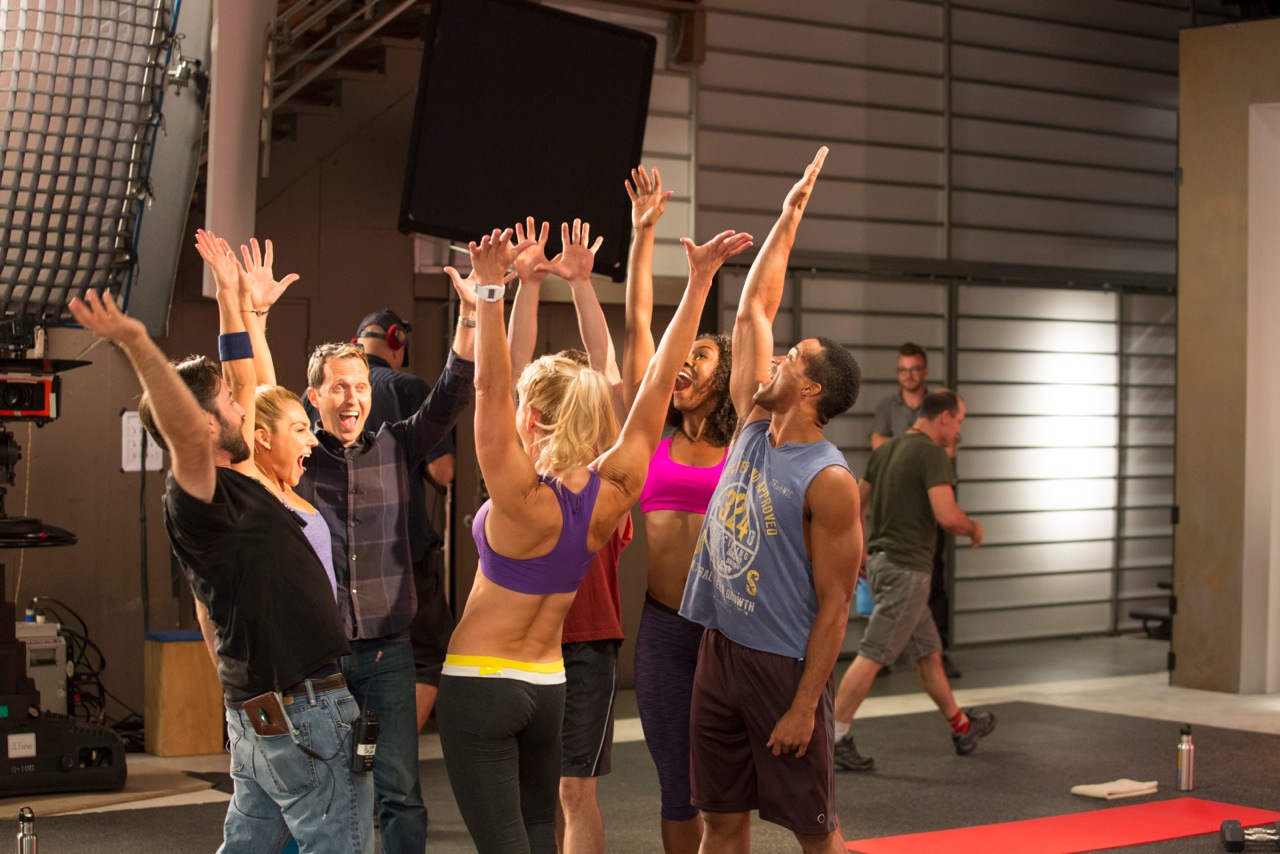 Reported by Jillian Smith
Punishing hours, overworked crews, and loads of junk food – welcome to a typical Hollywood set.
As glamorous as a Hollywood production might sound, a typical day of shooting on a soundstage is anything but. Tension, tight deadlines and stress are the norm. Add the physical demands of shooting a workout, and you could have a recipe for disaster.
After taking a peek behind the scenes of a MEGAMACE Fitness Productions set, it looked like this cast and crew were having a good time! I asked veteran DailyBurn trainers Keaira LaShae and Anja Garcia to give me the real scoop on what happens when they're filming DailyBurn workouts with MEGAMACE.
Keaira Lashae is the multi-talented powerhouse star of DailyBurn's MOVE! who recently entertained millions on NBC's The Voice! She had a few things to say about what it was like behind the scenes with MEGAMACE.

"I have a blast on the DailyBurn set with MEGAMACE! [Director Mason Bendewald is] not afraid to be creative, so it stays fresh. He encourages me to be myself. Not all directors are like that."
It's got to be a draining process where nerves get frayed when you have to perform right?
"It's a team of great people so it's less draining than you'd think. We joke around and dance in between filming. Working with pros – it doesn't seem like a long day."
I also approached Anja Garcia who recently wrapped production with MEGAMACE on Inferno HR. Anja, what's your take from behind the scenes of your intense productions?
"On a MEGAMACE set, the atmosphere is super busy—but fun. Mason likes to play music and we always have our famous handstand contests!  It's the most creative set I've ever been on."
It's creative and fun, but isn't it exhausting? In addition to being a DailyBurn trainer you're also an ICU nurse, an intense job in and of itself. Your production days must be grueling. How do you keep your energy up?
"The camaraderie helps me keep my energy up.  Everyone is doing what they love, and we all become one big family! But man, mostly I'm just so excited to be on set again!"
Excited?! I sat down with director, Mason Bendewald, to find out what was behind all this excitement.
"Production can be draining. It's hard work. It's important to me that we do everything we can to get us feeling our best on set. I lead a workout every morning—and everyone in the production joins in. It wakes us all up, gets us motivated.

We keep the set healthy. We offer our crew clean and delicious snacks and meals – even a natural juice bar.

Ultimately, it's important to me that our set is a positive environment that fosters creativity and inspires everyone to bring their best. When people love what they do, and have a good time doing it, it's evident in the final product."
Crew workouts, handstand contests, and an all-natural juice bar: welcome to a MEGAMACE Fitness Productions. It's not your typical Hollywood set.
Tags: Anja Garcia, behind the scenes, dailyburn, fitness video production hollywood, fitness video production los angeles, keaira lashae, mason-bendewald, megamace, NBC's The Voice