Live to Fail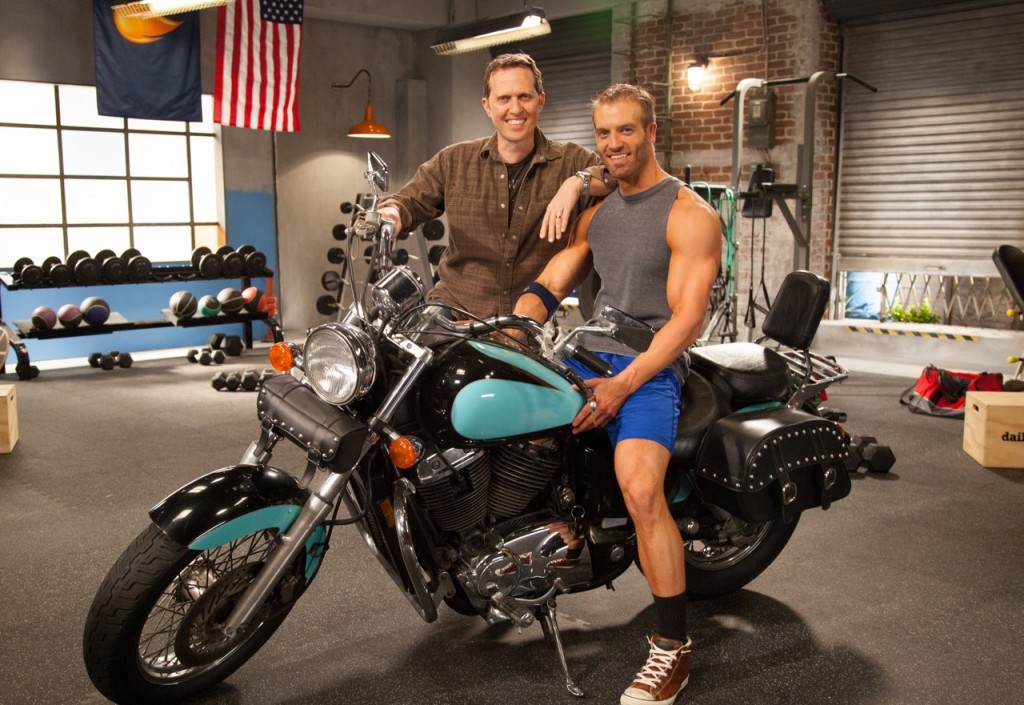 The Visual Design of a Workout Video
One of the unique challenges filmmakers face when producing a workout video is that it needs to be both functional AND aesthetic. Achieving this is no small task. Just ask Graham Futerfas. He's worked as the Director of Photography on hundreds of fitness videos with MEGAMACE Fitness Productions and was a major player in executing the visual strategy for DailyBurn's popular strength program, "Live to Fail" with Ben Booker.
"Shooting a fitness video is different than a lot of other types of cinematography," says Futerfas. One of the first challenges he faces is making sure the viewer is able to see what is happening on set. "Form is important to good fitness, and we want to be able to show the exercise form and make it clear to the end user," he explains. "You're trying to make the lighting and camera angles perfect for four cameras instead one, and that's a challenge because they cover a massive area and feature multiple people in a single shot."
Overcoming this first challenge requires very strategic use of each piece of equipment. Graham, along with veteran fitness director, Mason Bendewald, chose to use the Arri Alexa to shoot LTF in lieu of the popular Vari-cams used on previous productions. "They looked fantastic," says Futerfas. "They have a really pleasant, shallow-depth-of-field, low-noise, high-dynamic range look to them. They're very top of the line, and enhanced what we were doing with the lighting and set design." They used specialty equipment like a pedestal, jib arm, and slider dolly, allowing each individual camera to move. This movement gave the production team an extreme amount of control over coverage of each exercise.
Throughout production, there are a series of choices Mason and the MEGAMACE team make that culminate in a cohesive visual style. Lighting and set design play a major role in giving depth to the final video. The goal of a great fitness video is not mere functionality. The creators strive to craft a visual space characteristic of the trainer and the program itself. The objective is to provide a fuller experience for the user – but accomplishing this requires a highly skilled team.
"Designing the set definitely always begins with knowing the workout," explains LTF Production Designer, Johnny Love. "What is it about? How intense is it? Who's working out? Once all these questions are answered, the magic begins. A lot of my sets begin with a single item, such as a light fixture or piece of workout equipment. It sounds odd, but it's a real thing, I can assure you. I've heard of clients requesting their kitchens be designed around a single faucet."
When you experience "Live to Fail" for yourself, you might notice one or two of these "items." The American flag, for instance, was inspired by Mason's visit to Ben Booker's gym in his hometown of Sullivan, IL. The set design spoke to the qualities Mason found striking in Ben himself. "You look at Ben and his physique and you'd think 'this guy's got to be cocky as hell' right?" says Mason. "Lots of guys who look like this are – but not this guy. He's pulled himself up from some pretty hard times… he was a plumber, and still has his license, as well as a father of 3 young kids. I wanted to capitalize on these qualities." What you see onscreen – the roll-up doors, the motorcycle, the exposed florescent lights – these were all inspired by Mason's trip.
"Ben's routine works," says Mason. "It's not fancy. It doesn't require a lot of equipment. I wanted the set the read 'If you're looking for a no-nonsense place to get in the best shape of your life – well, you just found it!'"
"Authenticity is the key to making a set feel realistic and alive," says Love. That's exactly what you get when you see the program on screen. It's true to Ben and true to the LTF workout.
Tags: ben booker, dailyburn, fitness videos, graham futerfas, johnny love, live to fail, mason-bendewald, visual design, visual style, workout video