Black Fire With Bob Harper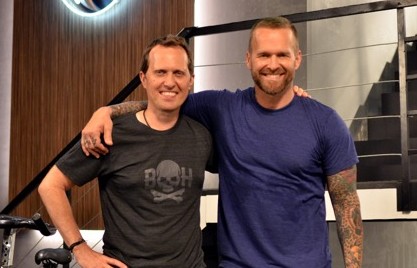 For over 10 years you've witnessed fitness professional and best-selling author, Bob Harper, change lives on television in NBC's The Biggest Loser. Now MEGAMACE Fitness Productions is proud to stream one of America's favorite trainers directly into your living room with the release of DailyBurn's Black Fire.
Black Fire kicks off the new year with a bang, utilizing some of the hottest trends hitting the fitness industry for 2015. The American College of Sports Medicine (ACSM) recently released their list of the top projected fitness trends for the year ahead. Among them are some of the building blocks for Black Fire's intense 60-day program – bodyweight training, high intensity interval training, strength training, and functional fitness.
Black Fire is a 60-day program designed to appeal to both fitness veterans and budding exercise enthusiasts alike. Incorporating nutrition, functional fitness, and high-intensity inteval training, Black Fire is designed to produce maximum results with minimum equipment. Using simple, 20-minute, scored workouts, Bob and fitness video director, Mason Bendewald, have developed a program that's both engaging and effective.
"When I first sat down with Bob, I asked him to identify what was missing from today's workouts," explains Mason. "Bob's answer was 'scoring.' As a CrossFit athelete it's something he utilizes in his own workouts. You'll see a lot of that influence in Black Fire. We added scoring because it gives you a benchmark, you can compete with yourself and others – which is fun."
Check out ACSM's full list of top fitness trends for 2015 below:
1. Bodyweight Training
Bob Harper in Black Fire - Bodyweight Tabata Workout
2. High Intensity Interval Training
Bob Harper in Black Fire - Power 10 Workout
3. Educated and Experienced Fitness Professionals
DailyBurn's Expert Trainers
4. Strength Training
Ben Booker in Live to Fail (LTF) - Arm Forge 2 Workout
5. Personal Training
Daily Burn Live Coaching - New Feature
6. Exercise and Weight Loss
Justin Rubin in True Beginner Phase 3 - Cardio Kickboxing Workout
7. Yoga
Briohny Smith in DailyBurn Yoga
8. Fitness Programs for Older Adults
Justin Rubin in True Beginner Phase 1 - Stability & Mobility Workout
9. Functional Fitness
Bob Harper in Black Fire - OTM Air Force Style
10. Group Personal Training
Cody Storey - Storey Fitness - Small Group Clubbell & Kettlebell Training
Ready to jump start your 2015? You can train Black Fire with Bob Harper free for 30 days on DailyBurn.
Tags: acsm, black fire, bob harper, bodyweight training, dailyburn, functional fitness, high-intensity interval training, mason-bendewald, the biggest loser, top fitness trends, top fitness trends 2015