The NETFLIX of Fitness?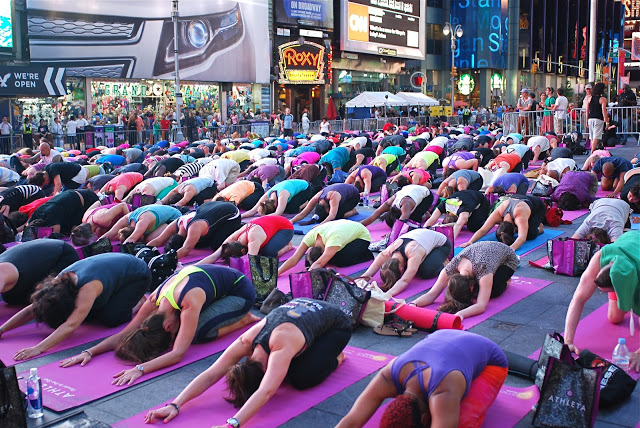 There isn't one, yet. Got a hunch who that company will be? There are plenty of companies that are synonymous with exercise, mostly the ubiquitous gear that even people who wouldn't be caught dead on a jogging path sport. Shoes: Nike, clothing: Under Armour, yoga wear: Lululemon. But it's anybody's guess which company will step up and lay claim to the growing number of people who rely on anywhere, anytime workout videos. Who will be top dog? On demand workouts are in demand, and while we are familiar with fitness companies who offer online content, there doesn't appear to be a single standout poised to become the giant in this marketplace that becoming more lucrative every day.
What about those who haven't tested the waters yet? Could any of them become the Netflix of fitness? To any fitness company still asking the question, "Is it time to stream our brand?" The answer is a resounding 'Yes'. The world population is over 7 Billion, and InternetWorldStatistics reports 46.6% of the world's population is currently online and internet dependency is climbing at a steady rate. The U.S. Census Bureau data shows that over 50% of the world is under the age of 30, so it's easy to see how consumer expectation is evolving right along with the modern digital world. Still while the promise of the younger demographic is enticing, they're not the whole story. Online commerce is being embraced by more and more senior citizens. Scott Public Relations who tracks health care, insurance, and technology, put it succinctly in a recent article, "Older Americans are going online and using the internet with greater frequency, but are largely an ignored demographic." So there's expansion for people young and old and more people are looking to find more ways to fight the battle of the bulge.
So whatever age demographic a fitness company is targeting, the answer is the same: if their workouts aren't streaming it's time to revisit their business plan and find the best way to reach customers online. Entrepreneur recommends that businesses routinely revise their business plans to reinvigorate their companies, and they recommend part of that endeavour be "Taking a look at your peers to see where your industry is going." This couldn't be more relevant than in the fitness business. If a company still offers workouts via DVD, it's time to find an exit strategy for that delivery method. Technology expert Trevor Long joins the voices that say the smartphone is killing the DVD player just as soundly as it killed the CD player and the low-end camera. Try to buy a state of the art television with a DVD player, and you'll agree with Trevor. Bobby Parsa, CEO of WebVDEO tells clients, "It's fair to say, it is critical for companies to stream any visual content that they have online. It isn't just an added perk anymore. The Technological Age is here, and businesses that don't have online content are becoming obsolete."
In preparation for taking an exercise brand online, there are a variety of platform and revenue stream options. Delivering workout and lifestyle video content through a paid online subscriber platform like Gaiam has with their online TV station Gaia is probably the most comprehensive offering launched by an established health and wellness brand. But there's the option to offer free content like BeFit where the bottom line relies on advertising dollars that come along with viewership. Another business model is the blended offerings of Wello where subscribers can choose their trainer and book a session one-on-one, or sign up for small group classes for about half the price.
In fitness, unlike say book publishing, online doesn't mean gyms will be a thing of the past. Whoever takes the top spot of online fitness and brings anywhere anytime fitness to the masses won't necessarily signal the demise of brick and mortar gyms. Of the 54 million gym members in 2015, almost 80% say they supplement their gym workouts with in-home fitness videos. Last year CBS News reported that the amount of video streaming the average person was doing on a regular basis was increasing at around 60% over the year before, and that fitness app downloads were up 87% over all other apps. This year that trend continues. Destination gyms compliment online workouts nicely and vice versa.
So for fitness companies looking to take their brands into cyberspace, there is no downside to updating your business plan to make that happen. Your consumer still wants the same thing they always have from a good workout: Effective, motivational, targeted, and easy to follow—and they're most likely online right now. So go get em. Come online, the stream(ing)'s fine!