3 Keys to Video Production by P90X Director, Mason Bendewald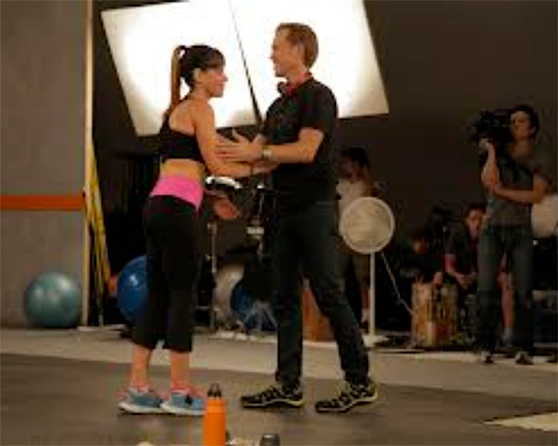 Just because someone is a good fitness trainer doesn't mean they've got what it takes to command a workout on camera. Similarly, just because a production company has sound, video, and lighting equipment doesn't mean they can produce great fitness videos. Building a great fitness brand starts with 3 basic ingredients. Lets go over them:
THE RIGHT TALENT
Your talent needs to have personality, look the part, and be a great trainer. I've directed Tony Horton of P90X fame for years – he fits that bill. He's got loads of personality, he's got the muscles I want, and he knows how to cue for camera. Tony keeps your mind off the work because he's not just a trainer – he's a performer. I had an acting teacher that used to say, "I can tone you down but I can't tone you up". I use that as a gauge to audition new trainers for DailyBurn. Searching for talent and training them isn't easy. They need to be engaging from the moment "action" is called or you'll just have another workout instead of brand worth getting behind.
GREAT PRODUCTION VALUE
What does that mean exactly? Production value is the perceived value of your production. It's all the elements coming together to make magic.
It has more to do with know-how then fancy equipment. A good photographer can make a work of art with an iPhone, whereas an expensive camera in the hands of an amateur will get you an costly snap-shot. MEGA MACE understands the unique challenges that come with a fitness video production because we specialize in it. Over the past decade we've produced hundreds of workouts – and each one has it's own unique look and feel. We work hard to make sure the production value is high no matter what the budget.
There's an art to production. Understanding how it all comes together, talent, lighting, sound, the stage, music and the workout itself – it's something that takes time to understand and do correctly. Don't rush a good idea. Make sure you're getting the best ingredients first.
TESTED AND TRUE RESULTS
Marcus is a DailyBurn participant who transformed his body and his life in just a few short months thanks to the DailyBurn workout program that MEGA MACE helped develop.
Customers come back when they see results! I remind trainers all the time: "Your job is make sure I show up again tomorrow." If I do that, I'll start to see results and then it becomes a cycle that takes care of itself. But you have to know the program will work. That means a little research and development. It doesn't have to be an expensive test-group run, but you need to make sure your intended demographic is going to respond to your idea. At the bare minimum offer some free classes and get feedback. If you're going to make claims, make sure you can back them up too. A little planning ahead of time will go a long way and save you costly mistakes in the long run.
To sum it up get a great trainer, an experienced team, and test your product so you know it works. Consumers spend billions of dollars trying to get in shape each year. Help them with a great product and you'll earn some of those dollars easily.
Tags: dailyburn, fitness video production, Mega Mace, weight loss results